Levi Michaelis, Tyler Dean, Dillon Brady, Tylar Morano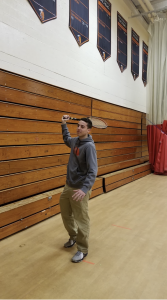 Senior Captain Tyler Dean Practices his serve
Introduction:
The spring season is upon us and the Middleboro Sachems Tennis team is gearing up for their 2017 season. With a completely open roster due to the heavy offseason loss it will be interesting to watch the team's upcoming season. Another major change made is the fact that they are switching to the South Shore league, changing the majority of their opponents. When asked about the team's performance last season Coach Pelletier responded by saying "I feel that the team performed well last year, showing improvement throughout the season.  We finished the 2016 season with a 6-14 record.  Our 1st Doubles team of Nathan Yudichak and Ryan Baker were Patriot League All-Stars, which is an outstanding achievement." Coach is confident coming into this season because the Sachems will be changing many of their opponents in this upcoming year. He may have a lack of talent on the team this year but he wants to "focus on things that we can control: giving 100% effort, supporting teammates, and having fun".    
Key Additions:
This year, Chase Holyoke, Declan Hastings, Jacob Deluca, and Devin Avila will be new additions to the MHS tennis team. Senior captain Tyler Dean says that "Declan's forehand and backhand swings looked very good," and Tyler believes he has a lot of potential, and could significantly improve the team. Also, Devin Avila has had experience on the court and practices quite often, making him a positive addition to the team.
Key Departures:
Last years first singles Isaac Lamkins and third singles Seamus McDade both left the team over the offseason.These players will be missed by the team as both were captains of the team and respectively combined for 13 won matches. Their play on the court as well as the leadership, respectable manner and inspiration they provided off the court will leave a big hole for the team to fill.  Along with them, doubles team players Nathan Yudichak and Matt Tortora were varsity players and were critical to the team success in their smaller, but still important, roles. Most might think that doubles player can easily be replaced because it is easier to play with two players on the court together. Undoubtedly, though, it is hard to build chemistry fast with another player. Also, tennis isn't an easy sport to just pick up and play, so the knowledge, experience and relationship with the other doubles players will all be leaving with Matt and Nathan.  
" Isaac brought experience to the team although he wasn't the best leader, he was just as successful as I was going between 1st and 2nd singles.",captain Tyler Dean said in an exclusive interview.
Reasons for Confidence:
With a lot of key players leaving the team, and a majority of inexperienced acquisitions, there are little reasons for confidence for this upcoming season. Even though the outlook isn't positive for this upcoming year, there are a few hopeful aspects. One key change this year is the fact that the Sachems are changing over into the South Shore league. This completely changes the list of teams the Sachems will play, and could be a blessing to this inexperienced team. Another reason for confidence is that the senior captain Tyler Raymond Dean is returning for his last year.
"I will be leading captain practices and use newly acquired equipment to help develop these young players," said Tyler Dean. He switched off between first and second singles throughout the previous year, and is expected to return as a well established first singles contender. There are hopes that he can rally the team under his sole captainship, and try to develop these players skills. It will be interesting to look at his contributions at the first singles position and to the team as a whole.   
Reasons for Concern:
This year the Sachems may struggle because a lack of talent. With Isaac and Seamus leaving the team this year the Sachems will struggle as they will rely on many underclassman with little varsity experience. It will be tough to win games with freshman and sophomores that haven't learned the ins and outs that some other programs have. Also the doubles teams will have little chemistry as they have yet to play with each other. This year may be  a rebuilding year for the Sachems as Coach Pelletier will look to work with these young players and establish the basic fundamentals needed to win tennis games. Captain Tyler Dean won only six games as first singles last year, and projected second singles player Ryan Baker has very little singles experience. With little success at the top it would be hard to see the team succeed as a whole. When we asked Coach Pelletier he seemed enthusiastic when he said the "Although we did not lose any players to graduation, the 2017 season will be a new team in many respects, and I am excited to get started."
Predictions:
Considering all of the young players on the team we believe that the Sachems will win a modest 5 games this year. Joining the weaker South Shore league will help, but there is still some talented teams in the new league. Senior Tyler Dean, and junior Ryan Baker will have a tough time carrying the team, but will be able to drag the team to a few wins. This is a rebuilding year for the Sachems with an eye for the future. The team will hope to build off of some of the games this year and use them as lessons learned for matches further down the road. The prediction for this upcoming season is very difficult to make considering the fact that "This season we made the move from the Patriot League to the South Shore League.  There is always a level of uncertainty when changing leagues."