Matt Doyle, Jared Hartman, Sean Hart, Jason Bean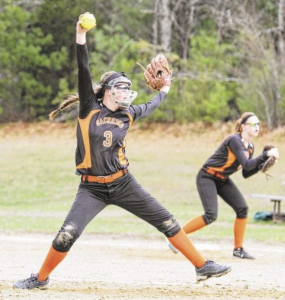 (Victoria Woodward winds up for a pitch in the 2016 season) The Enterprise
Intro:  
Middleboro Softball has had a rich history of playoffs runs in the past, only missing the postseason a few times within the last 35 years. Second year head coach, Scott Nelson is expecting nothing less for his team in the upcoming season. In a recent interview with Nelson, he was confident and excited for the season to kick off, and says that his team has puting in the offseason work necessary to make an even further playoff run this year. With key players coming back, he believes there is enough experience to be serious contenders in the South Shore League.
Key Additions:   
Nelson is looking forward to seeing a new crop of talent come in from the middle school this year, and with the success they had in previous years together, he believes there is potential for some players like Samantha Crowley to make an immediate impact at the varsity level. Also, Coach Nelson explained how he was expecting big things from younger players to start making a splash on varsity, such as Tori Pope, Lianna Bernier, Maddie Kilpeck and Kayla Hodge.
Key Losses:  
Victoria Woodward and Lexi Pereira were both All-Scholastic players last year with high batting averages. Jordan Ferris also had a high batting average and a high slugging percentage. Emma Metcalf had some very clutch hits towards the end of the season to give the sachems the upper hand. Losing these four seniors rises the question of how the offense will be, losing so much power out of the lineup.
Reason for Confidence:  
With the loss of Victoria Woodward on the mound, most would expect the Sachems to struggle finding a replacement to take over at the helm. That's not the case for this years squad, though. Laura Hatch had some experience pitching last year, and this year is looking like she could be a huge problem for opposing teams. Not only that, but she has three year veteran Lindsay Woodward behind the plate catching for her, which is extremely beneficial seeing as Nelson considers her the best catcher in the league. Behind her, Nelson says there are three other catchers that are varsity ready, should anything happen to cause a position change for Woodward. Nelson is also confident in his outfield, saying he his returning all of his starters. And his infield is looking strong already as well. Jackie Reynolds and Kayla Hodge will make up the left side of the infield, and Maryssa Bouldry at first. This trio should bring some serious offensive firepower throughout the year, as well as being a solid defensive unit.
Reasons for Concerns:   
From the outside looking in, it is reasonable to have some concerns about the upcoming season offensively. Losing four high batting averages, it will be tough to replace those. The Lady Sachems are also lacking infield experience, with the the exception of senior Jackie Reynolds. However after asking Nelson what his concerns are, he replied, "That we might lose a game. I don't want to go into the season with any concerns."
Predictions:   
Losing these important seniors from last year, I think the team will do alright but not as good as past years. They will lose a lot of offensive strength, and players are going to have to step up to fill in certain positions. I think they will perform well in the new league, but when they make it to the playoffs they will get knocked out first round by a high seed, similar to last year.